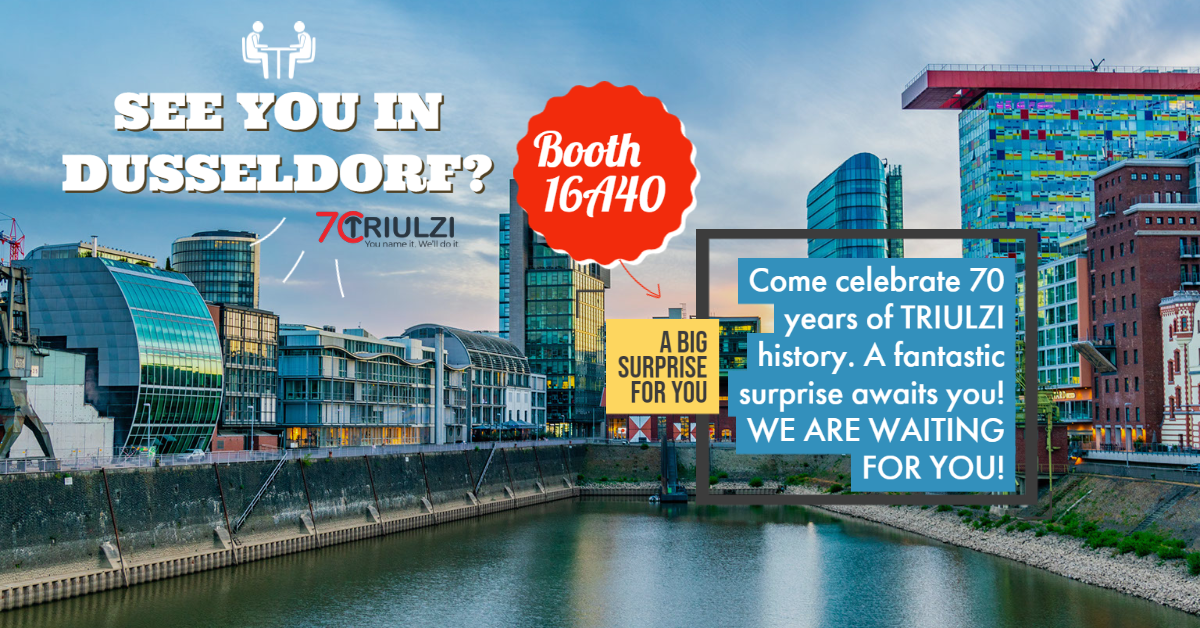 TRIULZI @ GLASSTEC 2022
Düsseldorf
Triulzi Cesare Special Equipments is pleased to announce that it will participate in the Glasstec 2022 exhibition in Dusseldorf, Germany. As every year, it will be possible to view live some of the most cutting-edge models including: horizontal and vertical washing machines, special equipments and robotics handling system, wet powdering unit, fire resistant glass line, polishing units, ultrasonic bath and curved glass.
TRIULZI WASHER. A successful example of truly Made in Italy.
Our company is example of excellence of Made in Italy since 70 years. Customers are displayed over the world and, thanks to technical and commercial skills and with adaptive approach and customization process, every market is fill with a range of solutions for the washing and treatment of glass in all declinations for automotive, solar, architectural appliances, display, building and interior design.
Triulzi brand is specialist in manufacturing machines in horizontal and vertical version from mini size to jumbo and extra jumbo size, from very thin glass to extra thick glass. To complete the range, fire resistant glass line, wet powdering and polishing units including ultrasonic bath.
R&D AT THE TOP. Ready to Industry 4.0
Triulzi R&D know how important is stay up-to date with new technologies and, using them, all machines can now be part of Industry 4.0. Moreover, since 2019, the innovations approach the curved glass industries with a patent system and robotics handling system.
SERVICE DEPARTMENT. Where we make a difference
What would the world be without a good service department? Selling is not the only thing that matters. In fact, it has become increasingly important to have skilled technicians ready to assist customers every step of the way. And Triulzi has them! In fact, a dedicated department is available, with multiple figures specialized in answering and solving problems as quickly as possible.
What about augmented reality?
In a technologically advanced world, even service can take advantage of the latest technology. For this reason, the Triulzi team uses dedicated software and visors to connect people and machinery without having to physically move. How? Thanks to augmented reality!
Come visit us at the GLASSTEC 2022 trade show in Dusseldorf to discover all these new features.
But there is more, a WELCOME BOX with useful information inside, personalized gadgets and a fantastic surprise that you will discover only by coming!
We are waiting for you! 😊